Let me ask you…
Do you want to get your business really flying NOW, I can make it happen for you. Hell, if you want it to happen in just 7 days it's a GO!
If you've been dragging those fancy heels of yours because the tech part of building the website is the thing holding you back—release it—I'm here to make it happen. Get down & dirty and get it done. No more hiding behind I don't know how, I don't have $5,000 and I don't have time.
If you like my style and want a professional, sexy, clean looking presentation of your business then this 'Quickie' is a no-brainer!
This is PERFECT for your biz if you want to add a small specialty website such as, new service, mobile, personal branding, or a unique product/craft/service.
If you find yourself nodding your head to ANY of the above, then you could benefit from the "Down & Dirty Quickie Package". Get the "411" below…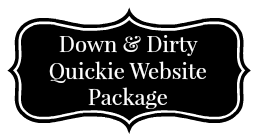 Template, Look, Design:

BluChic Templates/Themes are used (and they're Mobile Responsive) Choices include:
Beverly (used on this website)
Tiffany (retired)
5 pages: (you MUST provide content before we get "down & dirty"!)
Home
About
Contact
Blog
+ your choice
Images: 3 provided by me or you can supply them.
Sidebar & Footer:
Email Opt-in (I will set you up on iContact or MailChimp, so get your FREE gift/IFO ready!)
Feeds from Facebook, Twitter and Pinterest
Contact Email Form
Social Media Icons
Website Security & Backup ($129 value):
Install Security Plugin
Full Security Scan
Update Theme Plugins
Make Clone Backup
SEO:
Site maps for all websites, great for SEO, and submission to Google Search Console and Bing Webmaster Tools
All websites should be SSL/https: secure
Register websites/businesses with Google My Business, Google Search Console, and Bing Webmaster Tools
Page titles for better SEO
Make sure there are meta descriptions for all pages
Add alt text and optimized file names to your images
Customer provides:
Accent color
Blog categories
3 images
Email service provider access
Logo or banner if you have one, if not then name of site/biz and tag line and it's in the font above.
Don't forget the BONUS: Registering with Google Search Console and Bing Webmaster Tools. By registering your site with these two services, you are telling the two major search engines that your website exists and are ensuring it gets crawled. How about Google My Business, especially if you're a local storefront biz?!
*all websites & sales pages are done via Wordpess & templates from BluChic. Wordpress training is available at an additional cost.
Price: $997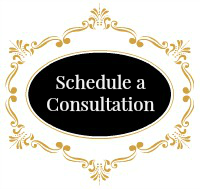 How about some add-on's for shopping carts, membership sites, newsletters, social media?
WEEKLY Website Security & Maintenance: $25/hour (minimum 1 hour per month_
Weekly Security Scan
Weekly update Plugins
Weekly check for update of theme
Monthly Clone Backup
Weekly management of Security Alerts
Shopping cart
Membership